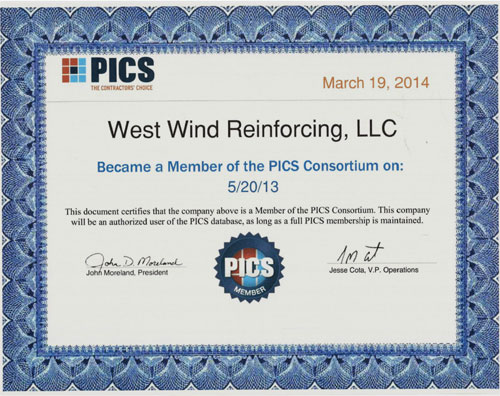 West Wind Reinforcing, LLC. Is A Certified Member Of PICS LLC.
PICS Auditing is a third party Review Company that assesses contractors' strengths in safety performance and business management for corporations with regional, national and global operations.
Approval by PICS requires the submittal of licensing, insurance certificates, OSHA 300 logs, Experience Modification Ratings, training documentation, safety policies and manuals. Approved contractors must meet both high safety standards and performance records. West Wind Reinforcing, LLC. is committed to environmentally conscious and safe work practices that protect the health and well-being of both our employees and our clients. We are pleased to have passed this rigorous pre-qualification process and to be a new member of PICS Consortium.